To overcome the confusing variety of existing persistent identifier systems, KE worked on guidelines for an international harmonized persistent identifier framework and a roadmap for the distribution and maintenance of the Persistent Identifier infrastructure.
This work (in 2009-2011) connected to the broader PersId project with DEFF, SURF, DANS, the national libraries of Germany, Finland and Sweden and CNR and FDR from Italy. Other organisations involved in the process: Europeana, the British library, the Dutch Royal Library, the National library of Norway and the Ministry of Education, Flanders, Belgium.
For further information please visit the website of the Persistent Identifier project: www.persid.org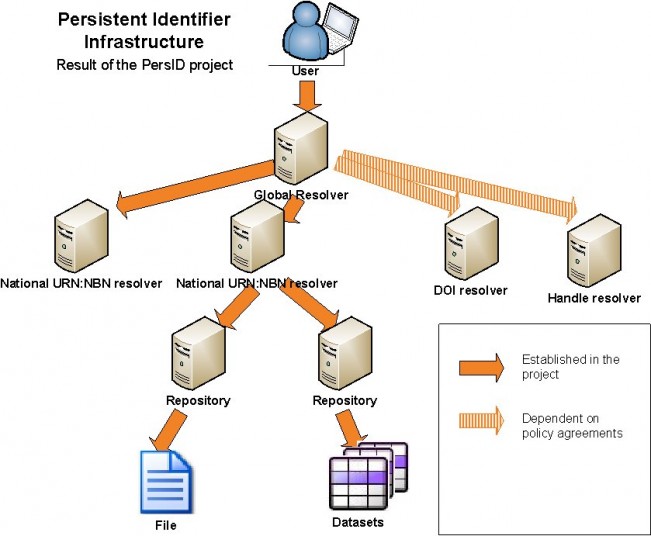 Persistent Object Identifiers Seminar
The Hague, The Netherlands, 14 - 15 June 2011 
PersID, SURFfoundation and DANS hosted a seminar inviting various Persistent Object Identifier solutions to compare services and explore future cooperation and convergence.
Three major players in the persistent object identifier area: Datacite/DOI, EPIC/Handle and PersID/URN-NBN informed each other of recent developments, shared user experiences and discussed trends and policies.
A report on the Persistent Object Identifier seminar is available for download.
Den Haag Manifesto
Five steps to bringing Persistent Identifiers and Linked Open Data together
During the seminar on Persistent Object Identifiers, held on 14-15 June 14 2011, one of the break out groups investigated where the Persistent Identifier and Linked Open Data communities could connect. This resulted in 'the five steps'. documented in the Den Haag manifesto. 
The Den Haag Manifesto is available for download